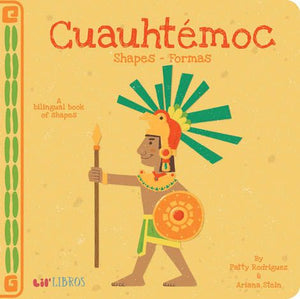 Cuauhtemoc - A Bilingual Book of Shapes
Regular price
$9.99
$0.00
Unit price
per
A Lil' Libros Bilingual Book of Shapes
Explore the city of Tenochtitlan along side Cuauhtémoc, the last Aztec emperor—where you'll come across the circulo (circle) in the Aztec calendar, the triángulo (triangle) in the pyramid, the heart in the shield of an Aztec princess, and more! This book introduces your little one to shapes and their first English and Spanish words.
Unable to find bilingual first concept books she could enjoy reading to her baby, Patty Rodriguez came up with the idea behind Lil' Libros.
Patty and her work have been featured in the Los Angeles Times, Rolling Stone, CNN Latino, Latina Magazine, Cosmopolitan, People En Espanol, Cosmo Latina, and American Latino TV, to name a few. She is currently Sr. Producer for On Air With Ryan Seacrest.
Ages: 12 months+
In a world lacking bilingual books for children, two best friends-turned-mothers – Patty and Ariana – began their mission to celebrate the duality of the American Latino experience through picture board books and now hardcovers. Their board books aim to introduce basic concepts to little ones, while their hardcovers drive the power of narrative and foster burgeoning minds. Lil' Libros was created to inspire parents to read to their children and encourage them to dream in two languages.
---